10+ FREE Drop Stitch Knitting Patterns
Disclosure: This post may contain affiliate links, meaning, at no additional cost to you, if you click through and make a purchase, I may receive a commission. Please check out our disclosure policy for more details.
Drop stitch knitting is a technique to make open, vertical stripes in knitwear.
By dropping one or more stitches in a solid fabric, it creates a run, or ladder, in the garment. This makes a see-through effect like lace but has a more casual look.
The drop stitch is perfect for summer knits like tank-tops, cover-ups, and dresses, but also work on scarfs, ponchos, and chunky sweaters.
Here I have picked out my favorite 10+ FREE drop stitch patterns, but I have also gathered 6 Drop-Dead Gorgeous Drop Stitch Summer Knit Kits at Knitinakit.
Brigitte Dress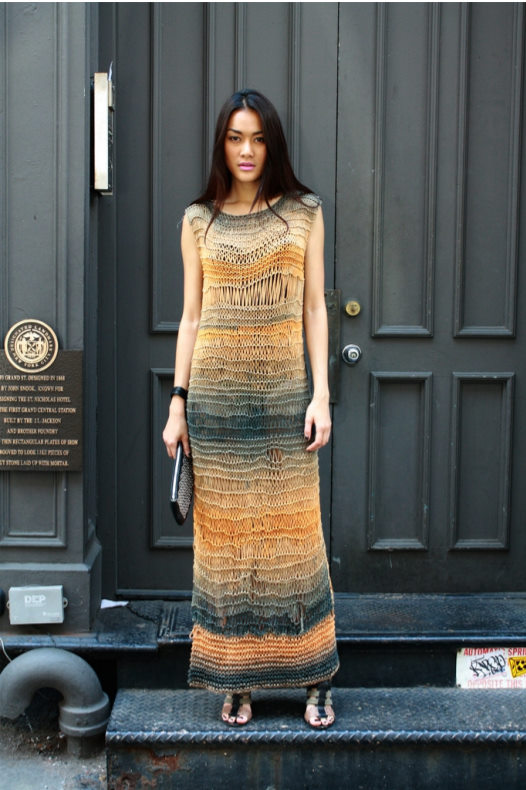 From: Loopy Mango
Sizes: S – XL
Difficulty: –
Yarn in image: Lang Yarns Sol Degrade
Yarn weight: 4 – Aran/Worsted
Needle size: 10mm/US15
Mistral
From: Drops Design
Sizes: S to XXXL
Difficulty: –
Yarn in image: Drops Cotton Light
Yarn weight: 3 – DK/Worsted
Needle size: 4.5mm/US7
Drop Stitch Pullover
From: Lion Brand
Size: S to 2XL
Difficulty: Intermediate
Yarn in image: 24/7 Cotton
Yarn weight: 4 – Worsted
Needle size: 5.5mm/US9
GET FREE PATTERN
Also available as knit kit

Parisienne Scarf
From: Loopy Mango
Sizes: One-size
Difficulty: Beginner
Yarn in image: Big Loop Mini
Yarn weight: 7- Jumbo
Needle size: 10mm/US15
---
The knitters little helpers
---
Curvy Girl Drop Stitch Pullover
From: Lion Brand
Size: 1XL to 4XL
Difficulty: Easy
Yarn in image: Vannas Glamour
Yarn weight: 2 – Fine
Needle size: 3.75mm/US5
Doris
From: Drops Design
Size: S to L
Difficulty: –
Yarn in image: Drops Ribbon and Drops Denim
Yarn weight: 4 and 3
Needle size: Needle 5.5mm/US and Crochet hook 3mm/US3/D
Cropped Drop Stitch Pullover
From: Lion Brand
Size: XS to 2XL
Difficulty: Intermediate
Yarn in image: Hometown
Yarn weight: 6 Super bulky
Needle size: 8mm/US11
North Sea
From: Drops Design
Sizes: S to XXXL
Difficulty: –
Yarn in image: Drops Verdi
Yarn weight: 5
Needle size: 8mm/US11 and 7mm/US11
Sweetheart
From: Drops Design
Sizes: S – XXXL
Difficulty: –
Yarn in image: Drops Baby Merino and Alpaca Silk
Yarn weight: 2 – Sport and 4 – Aran/Worsted
Needle size: 6mm/US10
Drop Stitch Shawl
From: Lion Brand
Size: One Size
Difficulty: Beginner
Yarn in image: Shawl in a Ball
Yarn weight: 4 – Medium
Needle size: 5.5mm/US9
Sands of Time
From: Drops Design
Sizes: S to XXL
Difficulty: –
Yarn in image: Drops Alpaca Bouclé
Yarn weight: 6 – Super bulky
Needle size: 10mm/US15
Drop Dead Gorgeous Loop
From: Love Crafts
Sizes: One Size
Difficulty: –
Yarn in image: Lang Yarns
Yarn weight: 4 – Worsted
Needle size: 6mm/US10
Drops 82-13
From: Drops Design
Sizes: S – XXL
Difficulty: –
Yarn in image: Drops Cotton-Viscose and Drops Saffran
Yarn weight: 2
Needle size: 15mm/US9